1963 Munster Junior Cup
** Notes for younger readers:
Try 3pts, Conversion 2pts, Pen 3pts,
No substitutions allowed even for injured players. (1968 injury replacements, 1996 tactical replacements)
---
MJC R1: Abbeyfeale 5 Mallow 3
After the shock of going out in the first round last year Abbeyfeale were determined to go through of all costs.
An Epic battle with a very good Mallow team ensued with booth sets of forwards throwing everything at each other.
At 5-0 up Abbeyfeale lost two players to injury and Mallow took the ascendancy and brought the score back to 5-3.
With the game looking to be heading Mallows way, the two injured Abbeyfeale players returned to the pitch and the spirit of the whole team lifted and they were able to see out the remainder game.
Abbeyfeale versus Mallow MJC R1 1963 Match Report
MJC AREA FINAL: Abbeyfeale 8 Castleisland 0
The 1963 Area Final between Abbeyfeale and Castleisland was played in a windy Knockbrack.
Abbeyfeale played against the wind in the first half and kept it tight with the game scorless when the sides turned at half time.
With the wind Abbeyfeale turned on the style with out half John Phelan pulling the strings.
A chip through from Phelan saw Nicky Cotter score a try which Hughie McMahon converted.
A beautiful drop goal from Phelan rounded off the scoring on the day with Abbeyfeale advancing to the MJC Semi Final stage.
Abbeyfeale versus Castleisland MJC Area Final 1963 Match Report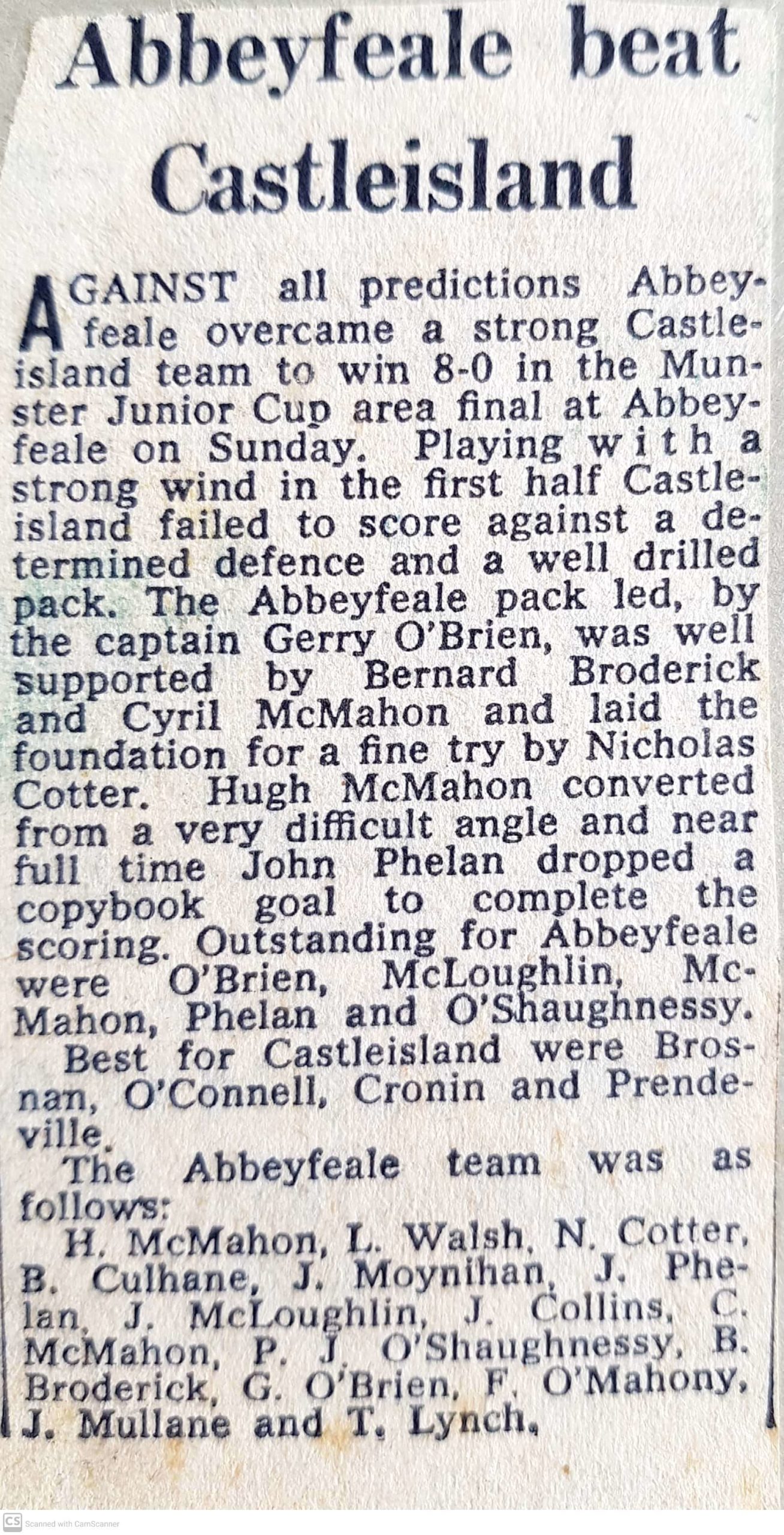 ---
1963 MJC Semi-Final Abbeyfeale versus Young Munster Preview
Abbeyfeale in their third year of existence are back in a second MJC semi-final.
The Limerick Area champions Young Munster stand in their way, and with home advantage to Munsters the odds appear stacked against the West Limerick men.
[/one_half]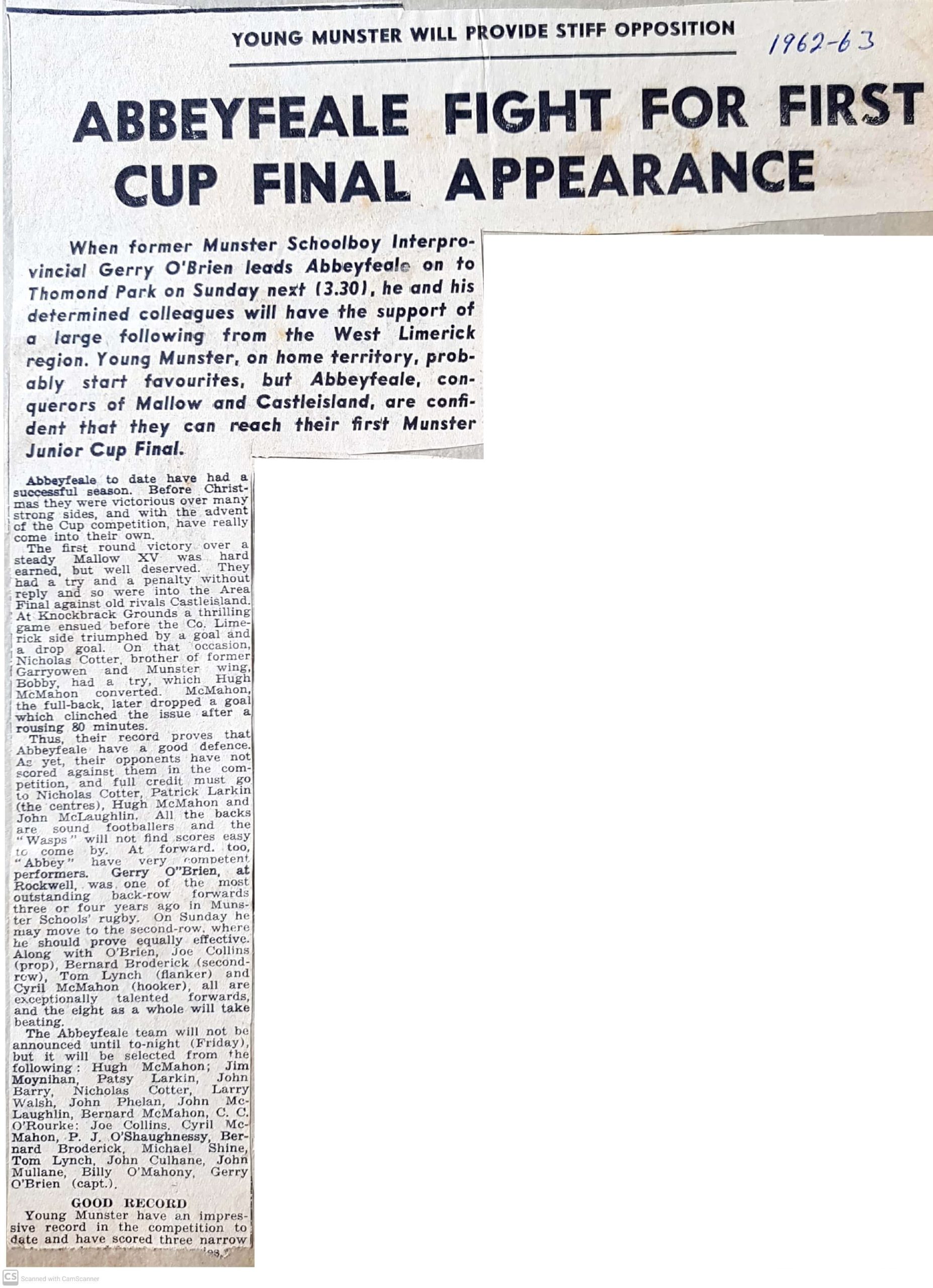 MJC SF: Young Munster 3 Abbeyfeale 3
Abbeyfeale got off to a great start with an sublime individual try by Nicky Cotter who picked up a loose kick on half way and ended touching down in the corner.
However a very strong Munsters back even when reduced to 7 men were on top in home turf and created numerous penalty chances for the win but in the end the game remained 3-3.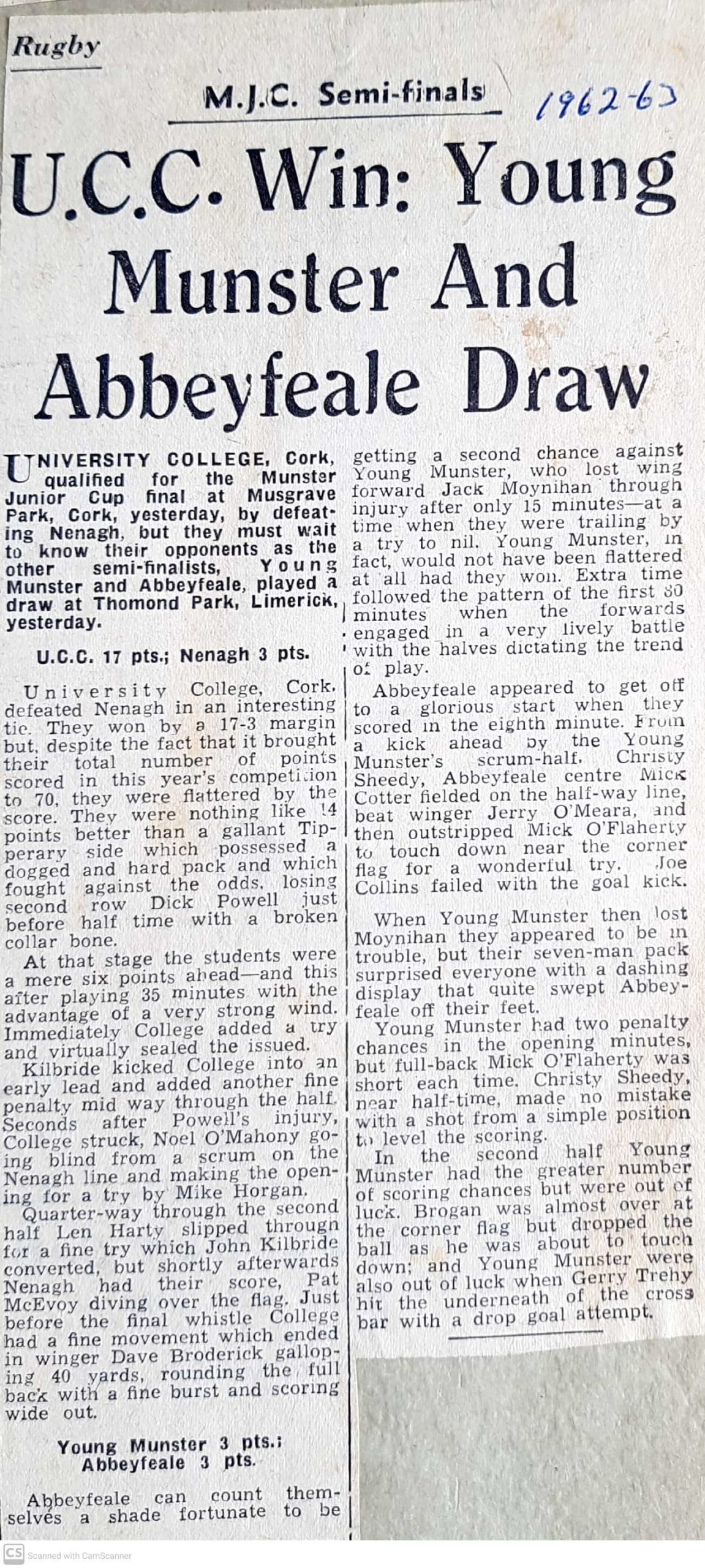 MJC SF: Young Munster 6 Abbeyfeale 6
For the replay Abbeyfeale requested a neutral venue and the branch deliberated on this before returning with what even now would seem a harsh decision. The replay would be held on that Wednesday night in Clanwilliam Park Tipperary !!.
Doubling the distance for the Abbeyfeale men to travel and on a midweek night.
Like it or not the Abbeyfeale lads turned up ready to go again.
Another draw 6-6, and so the team would meet for a third time in a week back in Thomand on Sunday.

MJC SF: Young Munster 6 Abbeyfeale 3
The third game in a week was an epic encounter. Both sides attacked and counter attacked relentlessly until almost collapsing with exhaustion at the final whistle.
In the end Young Munsters just had enough on home turf to resist the Abbeyfeale men and they went though to meet UCC in the final of 1963.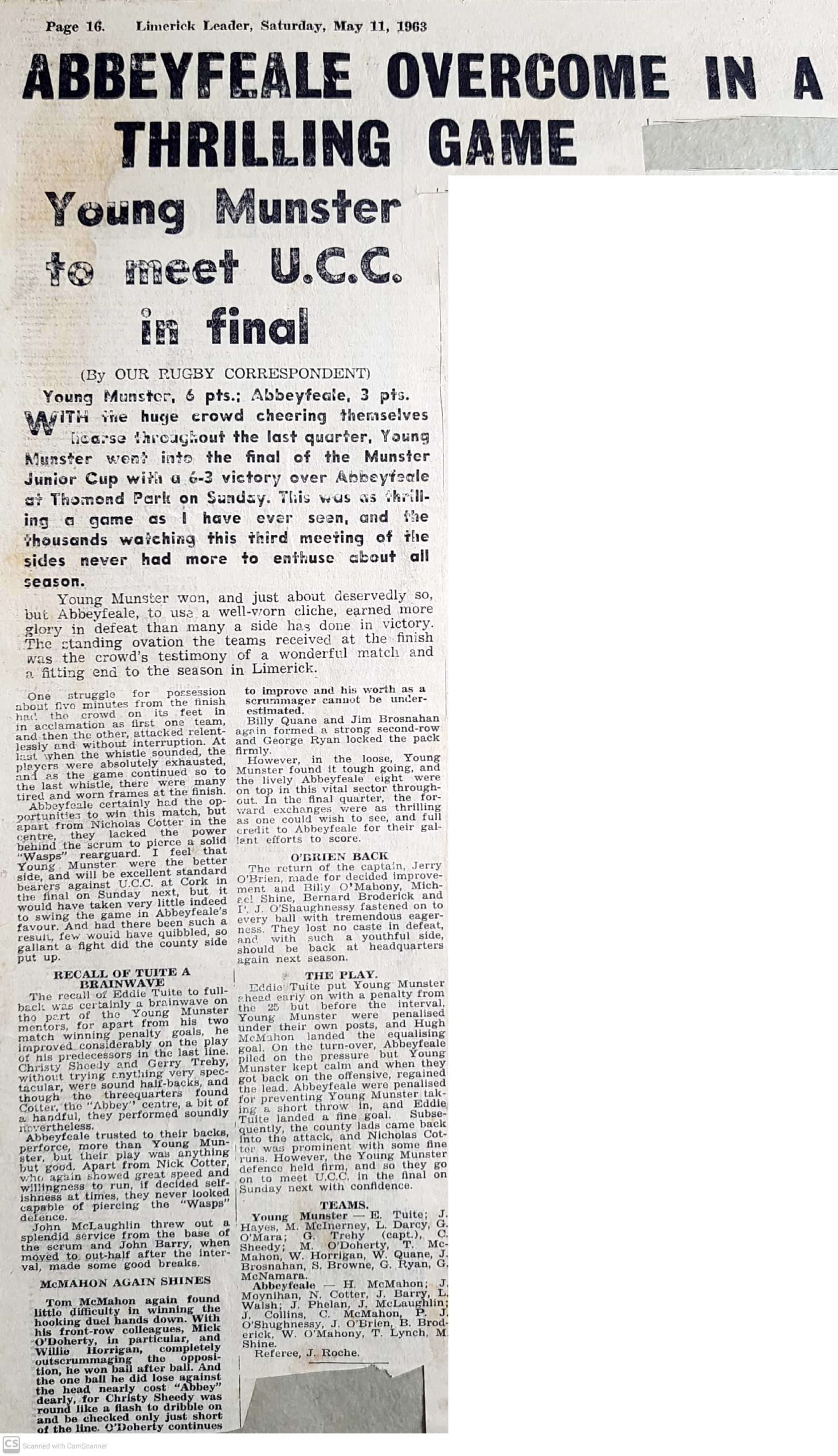 Abbeyfeale team that played Young Munsters inNJC SF 2nd Replay in Thomand 1963